Posted by Georgina Bennett on 9th Sep 2015
According to the ABS, of the 118,962 marriages registered in 2013, the most popular month of celebration for marriages was November with 14,592 (12.3%) marriages, followed by March with 14,584 (12.3%) marriages. The month of July was the least popular month for marriages with only 5,395 (4.5%) marriages taking place in that month. The number of weekends in a month influences the number of weddings in that month, so this should be taken into consideration when interpreting this data.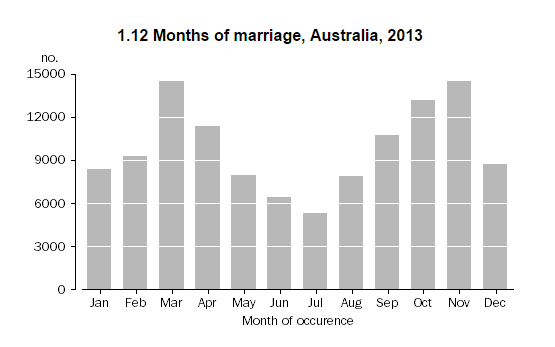 There are a few factors to take into consideration when choosing a wedding date.
1. The Season
In Australia, spring and autumn are often favoured for weddings due to the favourable weather. Depending on your location, winter can be very cold or summer can be very hot.
2. Off Peak Season
If you are choosing a popular time of year, it can make it more difficult to book your favoured suppliers and venues as they may be very popular with other couples also. Choosing a more off season time can sometimes mean extra savings with specials at that time of year also.
3. Public Holidays and Special Days
It may be tempting to choose a special day or public holiday to host your wedding. This can also be handy if guests to have an extra day on the weekend of your wedding. However, depending on the special date you choose, it is not always the most convenient for guests and venues. Consider the extra expenses and crowds for guests travelling from afar.
4. Your Work Dates
Many couples choose a time of year which is convenient with their careers. Teachers often choose a summer holiday date, accountants avoid the end of tax year.
Which date have your chosen and why?