Posted by Georgina Bennett on 24th May 2014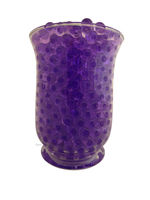 These gorgeous coloured beads can be known as: Water Pearls, Crystal Soil, Flower Hydrating Beads, Jelly Balls, Deco Beads, Aqua Beads, Polymer Gel Balls, Water Gel, Hydro Balls.
Crystal soil is very popular for using in your wedding or party centrepieces for a striking decoration to your table. They are great to also use as an everyday decoration in flower vases on your dining room table.
We stock crystal soil gel beads in 13 colours: pink, gold, white, purple, yellow, black, dark green, clear, orange, light green, red, blue, multicoloured. This makes it very easy to choose a colour to match your decorating colour theme. Our crystal soil gel beads come in handy 10 gram packs, making them perfect to fill a vase.
Instructions for use: Simply place the aqua crystal soil beads in a container. Fill the container with water (around 1.5 litres). Allow 6 to 12 hours for the beads to soak the water up (keep submersed during this time). Then drain off the water. Your crystal soil will now be ready to place into a vase. After some time, the Crystal Soil will begin to shrink as it "dehydrates" (particularly if the weather is hot). You can simply add more water to refill the beads.
Each Crystal Soil bead expands to around 1cm across. Each 10 gram pack makes a little over 1 litre of beads when fully expanded. For such an inexpensive price, they give such a exquisite decorative touch. Try using Submersible LED Lights in a vase or bowl of Jelly Balls for an absolutely stunning effect!
Please note: Do not put used Crystal Soil down your drain or into waterways. Do not eat.